COVID Charity Trial
canceled
We have postponed the edition of the COVID Charity Trial waiting to be able to confirm a new date.
Pilots and friends
2D'All Classic Trial
The current pandemic situation makes it very difficult to safely organize the 2021 edition of the All-Ger-Meranges-Bellver 2DTC.
So, we have postponed it to 2022, which we hope will be a very special year.
Don't wait for someone to tell you about it!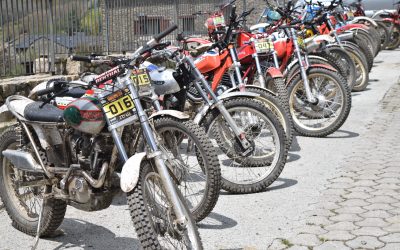 Spring trial 2D'All 2018 Saturday 12th and Sunday 13th of May 2018 Once again the world classic trialer met in La Cerdanya to play a new edition of the 2D'All that is already the seventh and that has meant a new record of participants with up to...
read more
Councils and entities that help us to make it possible.
We are for the promotion of the Trial with a classic spirit, a very complete sport for all ages.
The club was founded during the 80's by Ricardo Pinet i Vera, dedicating itself especially to the promotion of the children's trial. In 2000, MotorClub 80 acts as the official charge of the 1st Trial of All, being organized by the members of the current board, especially of Jordi Villalba. The story is repeated for 2 more years until Motoclub Motocat is formed, which organizes this trial for a series of years under the chairmanship of Jordi Villalba, and with Víctor Martín as vice president and Toni Buixadé, Enric Romeu and Francesc Infante as vocals. After the dissolution of the board, Jordi Villalba and Enric Romeu join with Joan Carles Torner, Nicolau Battestini and Josep Rojas recovering the dissolved MotorClub 80 to continue with the organization of the Trial d'All, in a format of 2 days. In 2016, a change of meeting was made taking over the MotorClub 80 Enric Romeu and serving as secretary Nicolau Battestini.